Excuse the short video as there is an irony. One of many places in Featherstone you would not wish to steel from is this one. To cut a story short these 3 white males with local accents aged early to mid twenties in a transit van sign written roofing on 3 sides were shown the error of their ways. This would have been left at that. However fate then came along. Take a note of the metal bucket taken out of the van which was eventually left with other items after error training by the van driving off at high speed spilling its load.
A couple of hours later a lovely 80 plus year old man arrived at a local shop nearby to buy a tin bucket. He had got wrapped up and obtained some cash because someone had been in his garden on Crossley Street nearby and stolen both his new tin buckets. The poor old guy was stressed because all he had was his coal fire and the bucket was part of his routine. His language was Featherstone sharp. By good luck staff who had seen the earlier incident and bucket asked the old guy to identify his bucket. What were the chances that he could identify one bucket. Yes it was his. It appears that Featherstone gardens have been robbed all morning. If you are a victim please add this to your report. The police are aware
Looks like is scrap man thief Wednesday for Featherstone with a twist. Last weeks scrap men were replaced this week with another trio following in the steps of last weeks rekey of Featherstone. This time the theory was to park the van out of the way with a driver while 2 white males checked out possible good spots found the week before. The white male pictured is about 5ft and thin aged about 30. This one is like a whippet shooting about and looking while his mate pretends to look else where but actually is acting as a look out. A little bit of an accent with this male (traveller). Again taught not to trespass. The irony was before this picture they had a good look around Labour Cllr Dicks house. Perhaps they should have been left!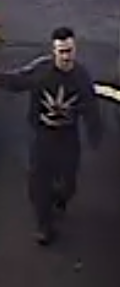 https://www.youtube.com/watch?v=BYSLYY6GC3U